Inspector General
The Inspector General undertakes or supervises official investigations that are not specifically delegated to other agencies or as assigned by the superintendent, reporting findings as directed, consistent with legal requirements.
Additionally, the IG serves as the Title IX coordinator. As Title IX Coordinator, the IG coordinates the development and review of policies, procedures, and training programs for cadets and employees of VMI that support the Superintendent's Statement on Equity. The IG office receives reports of alleged violations of Title IX of the Education Amendment of 1972, Title VI and Title VII of the Civil Rights Act of 1964. The reports are resolved or investigated, with the IG recommending corrective actions to the appropriate authorities.
Statement on Equity: General Order 13
VAWA Reauthorization (Including Campus SaVE Act)
---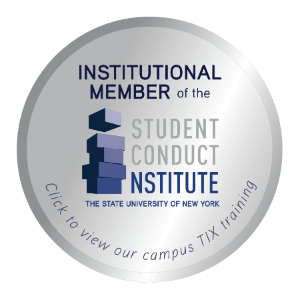 VMI is a member of the State University of New York-Student Conduct Institute (SUNY-SCI). All VMI faculty/staff participants in the Title IX grievance process to include Title IX Coordinators, investigators, decision makers, and informal resolution facilitators receive relevant Title IX and other investigation/adjudication related training through SUNY-SCI.
Additional Title IX training received from venues other than SUNY-SCI:
Questions concerning VMI's Title IX training program can be directed to the VMI Office of the Inspector General at (540) 464-7072.