Coast Guard AUP
The Coast Guard Auxiliary University Program (AUP) is designed to provide a continuous resource of well-trained officer candidates who will excel in the United States Coast Guard or a similar service agency, without the commitment of an ROTC. This program pairs with your academics and VMI lifestyle to create a challenging and rewarding experience not found anywhere else.
What to Know:
Even though the Coast Guard AUP at VMI was built from the ground up in approximately one year, it is the largest AUP in the country; beating all other Senior Military Colleges and Maritime Schools in size, training, and leadership opportunities.
There is no service obligation unless selected for a commission. The AUP will afford you training and talking points that will prepare you for your applications submitted in your senior year at VMI. Then, the program you're selected for determines your service obligation after graduation.
A billet in the U.S. Coast Guard could be in any of 30 specialties, spread across various career fields that translate directly into the private sector: Global Operations Afloat, Shore Response, Shore Prevention, Living Marine Resources Enforcement, Aviation, Cyber, Intelligence, Information Technology Management, Operations Research and Data Analytics, Naval Engineering, Civil Engineering, Aeronautical Engineering, Financial Management, Defense Operations, International Operations
The AUP gives VMI cadets access to special programs and benefits including:

an increased likelihood of being selected for a commission in the U.S. Coast Guard upon graduation;
the ability to train with and shadow Active-Duty Coast Guardsmen during multi-day training operations held several times a year;
opportunities to train with Coast Guard Auxiliary staff and Active-Duty Personnel while on Furlough;
and the ability to obtain real-world certifications through local Auxiliary units.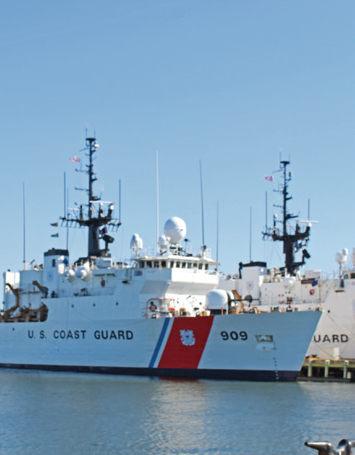 The AUP provides our cadets with an academic and practical curriculum that will effectively build their resumé. Since VMI is a senior military school, the USCG offers cadets a few different pathways: direct commissioning, the traditional officer candidate school, or enlistment with a four year degree.
---
Learn more about this program at VMI in the latest news coverage: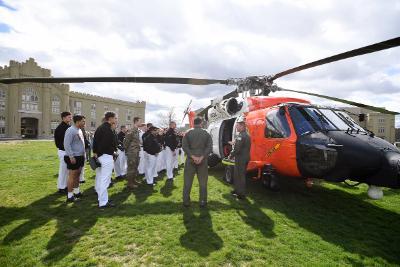 First Coast Guard Detachment FTX Kicks Off in Style
VMI's Coast Guard detachment kicked off their first ever spring field training exercises with the arrival of a U.S. Coast Guard HH-60 helicopter to post.