Career Services
The mission of the Office of Career Services is to provide comprehensive, state-of-the-art resources and services for cadets to assist them in their needs relative to career planning, career experiences, and employment or graduate education opportunities.
Cadets and Alumni: You can make an appointment through Handshake. Login using your VMI credentials and click on "Career Center" to make an appointment or email careerservices@vmi.edu. Walk-in hours are Monday - Friday, 0800 - 1630.
Employers: Visit our employers tab or please email careerservices@vmi.edu to discuss Handshake, Career Fairs, and other employer events.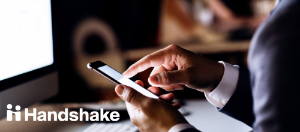 Handshake is still one of the best tools to assist with your job and internship search. Sign-in using your VMI credentials and set-up your profile. You can explore employers, jobs, internships, and virtual events, all in one place. Just make sure that your profile is complete: employers are more likely to reach out to cadets with a complete profile. You can find 100 companies hiring students on Handshake here, with the list being updated regularly.
UPDATE: Graduate School Exam Prep Discounts!
VMI cadets and alumni may now purchase test prep course vouchers from The Princeton Review at significant discounts! Please view this flyer for more information or email careerservices@vmi.edu.
It is best to take these entrance examinations while you are still at VMI; the scores will stay valid 2-5 years depending on the test.
---
Mark Your Calendars!
Our fall career fair is currently scheduled for Wednesday, October 26,2022, 10:00 a.m. - 1:00 pm.
Employers can register on Handshake. New employers are being added through October 14, 2022.
Cadets: Make sure you have updated your Handshake account, sign-up for your desired employer sessions, and complete your research on each employer to look your most prepared and polished. Registration is now open.
---
Career Support and Resources
Webinars
Career Services has hosted a series of webinars centered around networking and job hunting in this time of economic uncertainty and increased reliance on digital tools. Highlights of these events have been posted for anyone who was not able to attend.