Dean
VMI's 11th deputy superintendent for academics and dean of the faculty is Brigadier General Robert "Bob" Moreschi. He has served in this capacity since July 2018, having previously been a member of the faculty since 2002 and head of the Department of Economics and Business (ECBU) from 2013 to 2018.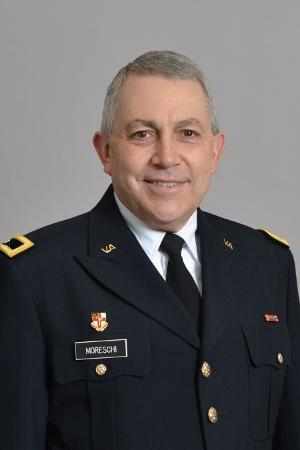 As VMI's chief academic officer, he oversees curriculum, majors, support services, governance, faculty, staff, and all things relating to the academic program.
After graduating from the University of Illinois at Urbana-Champaign in 1988 with a Ph.D. in economics, Moreschi steadily climbed the corporate ladder at several Chicago-based investment and money management firms for 14 years. For 13 of those years he was also an adjunct professor, teaching finance to undergraduate and MBA students.
In 2002, because of his love of teaching, he embarked on a career change, joining VMI's faculty as an associate professor of finance, became a full professor in 2007 and was tenured in 2008. In 2013 he was appointed head of VMI's ECBU department. As department head, he led the program's reaffirmation of accreditation with the Association to Advance Collegiate Schools of Business (AACSB International) – an impressive feat for a college of VMI's size, as less than 6% of all AACSB accredited schools are undergraduate degree-granting only institutions.
In 2016, Moreschi was named the John and Jane Roberts Institute Professor in Free Enterprise Business. In 2018, he was awarded the Nanette and Thomas Watjen 1976 Chair in Economics and Business. During his years on the faculty, he served on numerous Institute and department committees, including the Core Curriculum Oversight Committee, the Chairs and Professorships Committee, and the first chair of the Discrimination Appeals Committee. He was also the faculty representative to the VMI Foundation Board of Trustees and for 16 years served as faculty advisor to the Cadet Investment Group.
An active member of the community and his profession, Moreschi is an elder and assistant treasurer of the Lexington Presbyterian Church and served on the Audit and Oversight Committee at the Kendal at Lexington retirement community and on the board of the Lexington/Rockbridge United Way. In 2018 he completed a two year term as President of the Academy of Financial Services (AFS), an international organization of academics and practitioners interested in financial planning research and education, after previously serving six years as a member of the board of directors.