Civil and Environmental Engineering
Civil Engineering (CE) is the oldest of the engineering professions, broadest in scope, and parent of all other branches of engineering.
The CE curriculum at VMI includes a traditional array of course that allows cadets to pursue different subdisciplines after graduation. Cadets that successfully complete the curriculum receive an ABET accredited Bachelor of Science Degree in Civil Engineering.
The Civil Engineering Program's educational objective is to produce graduates who:
Use their broad-based civil engineering backgrounds to perform as entry-level engineers in industry, the military, government, or other fields.
Enter graduate schools in the disciplines of civil engineering or closely related areas, work training programs, self-study programs, military service schools, as well as other areas such as business schools.
Continue the process of life-long learning as required for long-term personal and professional growth.
Use their communication, computer, and teamwork skills to help themselves and their employees succeed.
Recognize their professional and ethical responsibilities to society as members of the professional engineering community.
Relate their personal and professional lives to moral and ethical practices.
High School Preparation
Prepare by taking the full college preparatory program augmented by as many math and science courses as your schedule permits. Courses in pre-calculus are particularly important. Engineering drawing (drafting) and computer programming courses are recommended, but they should not be taken in lieu of basic math and science courses.
---
Degrees and Programs
Major(s): Civil Engineering
Degree(s): Bachelor of Science (B.S.)
Sub-disciplines:
Course Flow Chart
Download our Civil & Environmental Engineering Course Flow Chart to learn more about required courses, pre-requisites, and elective options within the department.
---
CEE in the News
Find out more about the department's cadets and faculty in recent VMI news.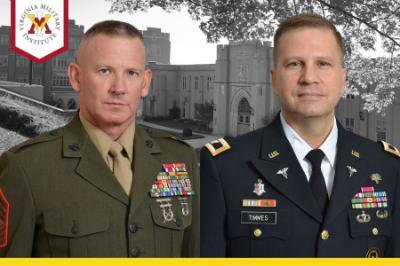 All-Southern Conference Faculty and Staff Team Announced: Two from VMI Recognized
Col. Tom Timmes '92, professor of civil and environmental engineering, and Institute and Corps Sgt. Maj. Tom Sowers, were recognized recently by Jim Schaus, Southern Conference league commissioner for being named members of the All-Southern Conference Faculty and Staff Team for AY22-23.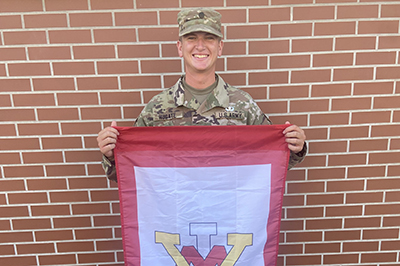 Cadet Successfully Completes Army Airborne School
Carter Hugate '24, a civil engineering major from Chesterfield, Virginia, is the second cadet to qualify for and successfully complete the Army Airborne School in Fort Benning, Georgia.