Chemistry
The Chemistry department provides cadets who major in chemistry with a strong foundation in chemistry, mastery of modern chemical instrumentation, excellent analytical and mathematical skills, and the ability to think things through and solve problems.
All majors are encouraged to participate in an undergraduate research experience under the guidance of a faculty member either in a 10-week summer program or during the academic year.
The chemistry department's Bachelor of Science is approved by the American Chemical Society, and cadets fulfilling the requirements for a Bachelor of Science are certified as having met the standards of professional training by the society.
The Bachelor of Arts degree provides cadets with an opportunity to pursue other interests in preparation for a career of their choosing while providing a solid foundation in the basic areas of chemistry. This degree requires cadets to choose another focus area outside of chemistry and complete either a minor, concentration or certification. Faculty members work closely with Bachelor of Arts majors to design a program that best meets the cadets' career goals. Career choices may correspond to the following focus areas:
Medical or dental school - Concentration in biochemistry and molecular biology
Military or intelligence agencies - International Studies minor, science and security minor, Arabic minor
Law enforcement or forensics - Concentration in biochemistry and molecular biology
Business/MBA - Business or Economics minor
Math/science teacher - Teacher certification program
---
Degrees and Programs
Major(s): Chemistry
Degree(s):
Concentration(s):
Minor(s):
Research Opportunities
The majority of chemistry majors participate in at least one undergraduate research experience. Most of these cadets will present their research at a local or regional professional meeting, and a smaller number will have their results published. Chemistry majors also have the opportunity to work as industrial interns with a company during the summer. Majors who have demonstrated excellence in the study of chemistry are invited to participate in the departmental honors program during their 1st Class year. Cadets who accept the invitation will be engaged in extensive research under the close supervision of a faculty sponsor.
---
Chemistry in the News
Find out more about the department's cadets and faculty in recent VMI news.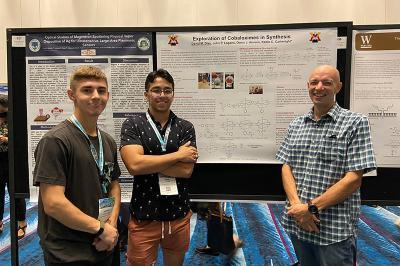 VMI Chemists Present Research in Puerto Rico
A contingency of two cadets and one professor recently presented research at the American Chemical Society Southeastern Regional Meeting in San Juan, Puerto Rico. The ACS is the world's largest scientific association with a membership of over 154,000 chemists, chemical engineers, and others.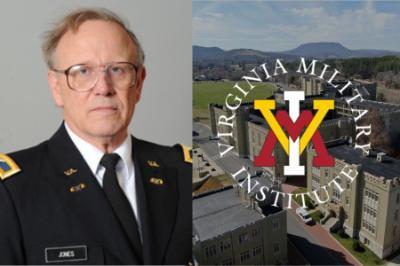 VMI Chemistry Professor Published in Preeminent Journal
Col. Tappey H. Jones '70, professor of chemistry at Virginia Military Institute, has had his findings recently been published in Nature: Communications Biology. This article covers findings of years of research, much collaboration with colleagues, and a bit of providence.