Kimchi, Won, and K-Pop Come to Crozet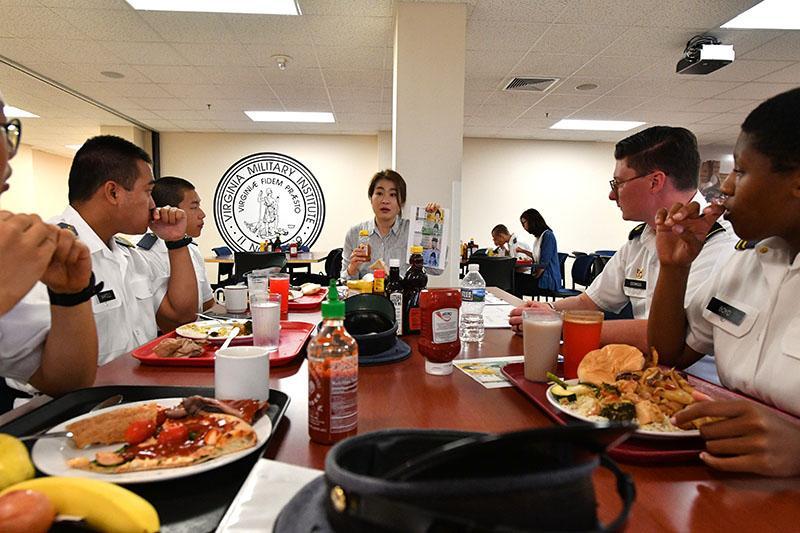 LEXINGTON, Va., Oct. 10, 2018—During lunchtime in Crozet Hall, cadets have the opportunity to not only nourish their bodies but also their minds.
For several years, professors have offered the chance for cadets to hone their language and culture skills in a casual environment by attending language tables on the second floor of Crozet.
Being the only Korean faculty member at the Institute, Dr. Youna Jung, an assistant professor of computer and information science, wanted to spread her knowledge of Korean culture and language to other members of the community.
What originally started as a club morphed into a language table during lunch on Tuesdays for cadets to learn Korean culture and language and to enjoy Korean food.
That food includes authentic homemade kimchi that Jung makes for the group with ingredients sent from Korea by her family.
Jung noted that faculty members have joined cadets at her table to share their experiences of Korean culture.
"The other faculty members are soldiers, some of their duties were in South Korea. Some of the faculty members contacted me because they knew I was in Korea and they wanted to talk about their experience, the culture," Jung said.
The meetings last about an hour and topics can range from culture to currency and how to order at a Korean restaurant.
"Korea has a unique culture, different from China or Japan. Many don't know that," said Jung. "We have a different food culture and etiquette."
Miyah Boyd '19 joined the language table because she is interested in the contrasts among Asian cultures.
"I just like how their cultures are very together—family oriented and with a structure in the family we don't have here," Boyd said.
She added she watches Korean dramas and listens to k-pop, Korean popular music.
"I speak a little German, enough to get by if I went there; I want to be able to do that in Korean," she said.
On the same day as the Korean table, other languages can be heard such as Chinese or French.
Laura Xie, an assistant professor of Chinese, usually has 10 to 15 students at her table but participation dwindles as students become busier. The cadets can learn not just another language but also culture.
"They come to practice, to learn about the culture… more chances to talk," Xie said, noting that Chinese exchange students will attend their meetings.
Across the room, Maj. Jeff Kendrick, an assistant professor of French, has hosted the French Language table for almost five years. Founded with fellow professor Maj. Abbey Carrico, the table attracts all classes of cadets, in addition to students from Washington and Lee University and French speakers in the community.
"We've had alums come, people working at VMI and W&L. Last year, we had a French au pair [a young person working in exchange for room and board]. Last week, there was a cadet whose family was from Cameroon," Kendrick said.
The tables are held between noon and 1 p.m. and languages vary from day to day.
- Ashlie Walter
-VMI-