Cadet Essay Published in Literary Magazine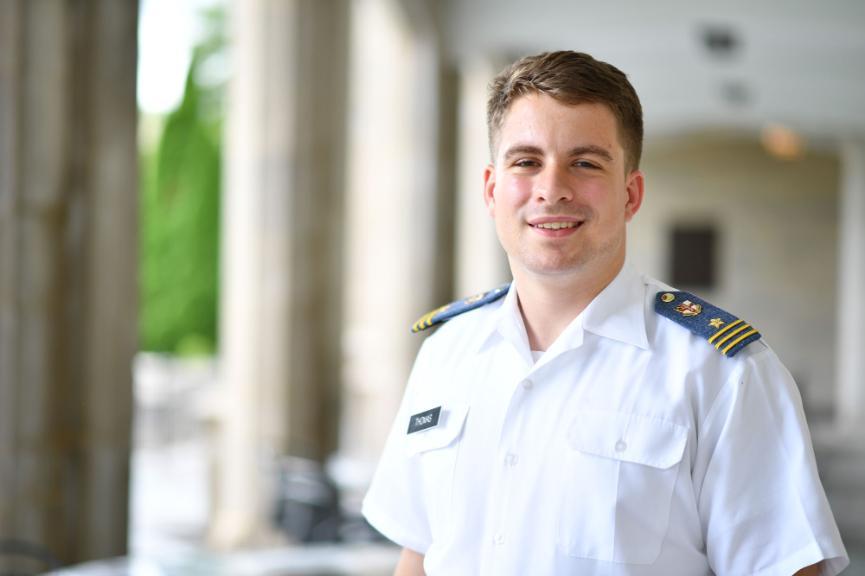 LEXINGTON, Va., Oct. 12, 2018—In his first submission to a literary magazine outside of VMI, Joel Thomas '19 won honorable mention in a nonfiction contest and a $100 prize. Thomas, who is on the editorial board of VMI's literary magazine, Cadence, has been writing for many years, inspired by his years growing up in the rural South.
The award-winning essay, titled "Whimsyton, N.C.," published under the North Carolina Literary Review's Alex Albright Creative Nonfiction contest, was inspired by an article he read about how small towns' marketing campaigns can "flatten" their culture.
"The place was familiar to me but how they were branded seemed alien at the same time. They had been reduced to advertising gimmicks. That spurred me to think more on the issue," Thomas said.
Thomas was one of two honorable mention winners out of 63 submissions to the contest.
Contest judge Randall Kenan said in a press release of the honorable mention essays, "These two struck me as distinguished and having something refreshing to say and a refreshing way of telling it."
Coincidentally, Thomas' mother, Sally Thomas, received second place this past summer in the NCLR's James Applewhite Poetry Prize competition, which Joel Thomas was unaware of until the winners were announced.
He said his mom had always been a published author and it was a "sort of a weird accident."
His other pieces, fiction and nonfiction, follow the same vein of focusing on a rural lifestyle.
"I write a lot of fiction, short fiction, focused on forgotten segments of the population. Growing up in the rural South, kind of hiding in plain sight are pockets of people isolated from the rest of the population," he said. "My nonfiction focuses on the idea of place in the South, what it means to be from a place and what makes a place."
That sense of place comes from growing up in the town of Lincolnton, North Carolina, since the age of 10. After he'd lived there for a time, he realized that it had its own closed system of rooted people and common knowledge, specific to that place.
While he has earned acclaim for his writing, Thomas' major is in biology, something he says marries well with his writing.
"I'd say the overarching thing is a desire to explore and a deep-seated curiosity. It comes from the same place of curiosity, how people work and not so much how they work in a psychological way, but how that expresses reality and how we can use art to perceive art," he said.
After graduation, Thomas hopes to attend medical school and specialize in psychiatry.
-Ashlie Walter
-VMI-