Driving and Parking on Post - Dec. 4 - Dec. 18
The 15-mph speed limit throughout post will be strictly enforced.
Sign up for text alerts to receive information concerning emergencies, weather, traffic, and parking during this period. Text the word "Keydet" to 772-95.
LEXINGTON, Va., Dec. 4, 2019 – Streets on post will be open, with the exception of Anderson Drive after Dec. 12, though traffic could be blocked at times for very brief periods, and in some places traffic lanes or parking will be reduced due to construction activities.
Major construction activities are occurring for the new police headquarters at Limits Gates, for renovations for Preston Library, and for the addition to Scott Shipp Hall, as well as smaller projects throughout post. Please exercise caution while driving on post, especially in areas where traffic lanes have been compressed. Extreme caution should be exercised while driving on Letcher Avenue from Jackson Memorial Hall past Crozet Hall due to construction at Scott Shipp Hall. Sidewalk areas may also be closed near Smith Hall and Marshall Hall.
The pedestrian access stairs allowing cadets, faculty, staff, and visitors access from barracks to North Post will be closed and replaced, though one of the stairs will be open on a rotating basis throughout the project.
For all post events, parking is not authorized on Anderson Drive or Woods Creek gravel access road. Only emergency vehicles are permitted to park at these locations.
For all indoor events, as well as football games, the clear bag policy will be enforced. Visitors to post are discouraged from bringing pets.
Reflective material or safety lights should be worn by anyone walking or running on post in the early morning or in the evenings.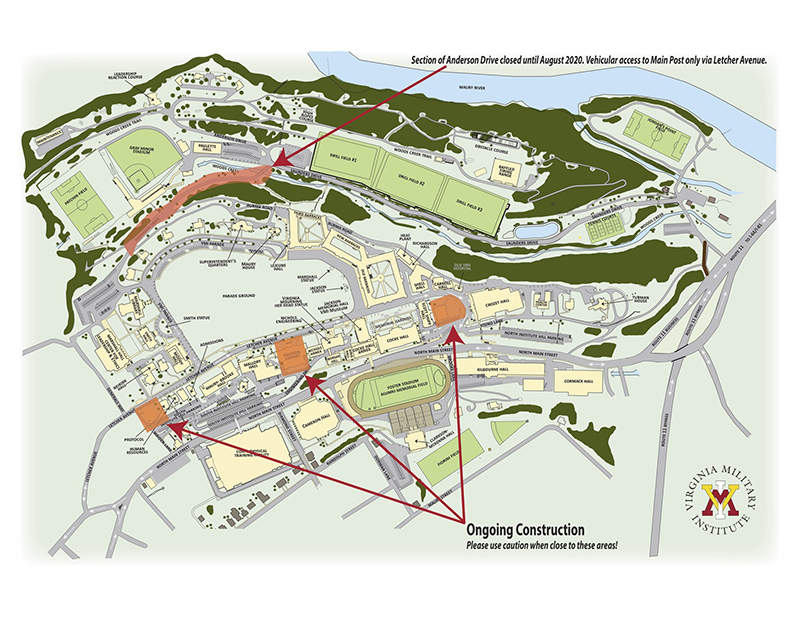 Here's a look at traffic patterns and parking in the coming weeks:
-- Dec. 4 (Wednesday)
– Portions of the Marshall Hall parking lot will be closed during daylight hours.
-- Dec. 6 (Friday)
– From 10:30 a.m. to 12:15 p.m., North Post will be closed to vehicular traffic from Jordan's Point to the Marshall Hall parking lot. Please enter the VMI Post via Letcher Avenue during this period. The Corps of Cadets will be conducting physical training throughout the North Post area, including on roadways. Residents of Anderson Drive may access their homes, but should also exercise caution.
– Cadets participating in the Lexington Christmas Parade will be marching in formation from VMI post at 5 p.m. For more information on the parade route, please visit mainstreetlexington.org/christmas-parade.
-- Dec. 7 (Saturday)
– Special parking in front of barracks will be in place for a memorial service at Jackson Memorial Hall at 10 a.m.
– Men's basketball game against Stetson in Cameron Hall at 1 p.m.
-- Dec. 10 (Tuesday)
– Carols in the Courtyard at 7:30 p.m., immediately followed by Spirit Night and holiday chapel service at Jackson Memorial Hall at 8 p.m.
-- Dec. 11 (Wednesday)
– Men's basketball game against Ferrum in Cameron Hall at 7 p.m.
- Dec. 12 (Thursday)
– Anderson Drive will be closed through August from the bridge near Gray-Minor Stadium to the Marshall Hall parking lot.
-- Dec. 17 (Tuesday)
– December ROTC commissioning ceremony at Jackson Memorial Hall at 5 p.m.
-- Dec. 18 (Wednesday)
– December graduation at Jackson Memorial Hall at 11 a.m.
– Barracks close at 6 p.m. for Winter Furlough.
– Vehicles may drive down Letcher Avenue to Barracks to pick up cadets, but no parking will be permitted to minimize lines or traffic concerns. Family members are asked to wait in the Marshall Hall parking lot until the cadet calls to say he or she is ready to be picked up.
-VMI-