Facilities on Post
As part of VMI's commitment to training future leaders with the physical strength and aptitudes to serve in a variety of roles, including the military, there are many facilities across post that provide cadets opportunities to challenge themselves, learn new skills, and lead their brother rats through rigorous physical activities.
Many of these facilities also provide a way to connect VMI to the larger community, cadet families, and alumni. These included sports venues where cadet-athletes compete to win, and the Corps and community come together to support them, large gathering spaces for some of VMI's most time-honored traditions, and theatre and speaker halls hosting various performances.
Cameron Hall
This facility, located at 401 North Main Street, is VMI's multi-purpose auditorium that accommodates the entire Corps of Cadets. It is used for a variety of activities including matriculation, graduation, guest speakers, conferences, and other co-curricular activities including serving as the home of VMI Basketball. Seating for 5,029 is provided in Cameron Hall.
On the lower levels, Cameron Hall contains athletic department offices and racquetball courts.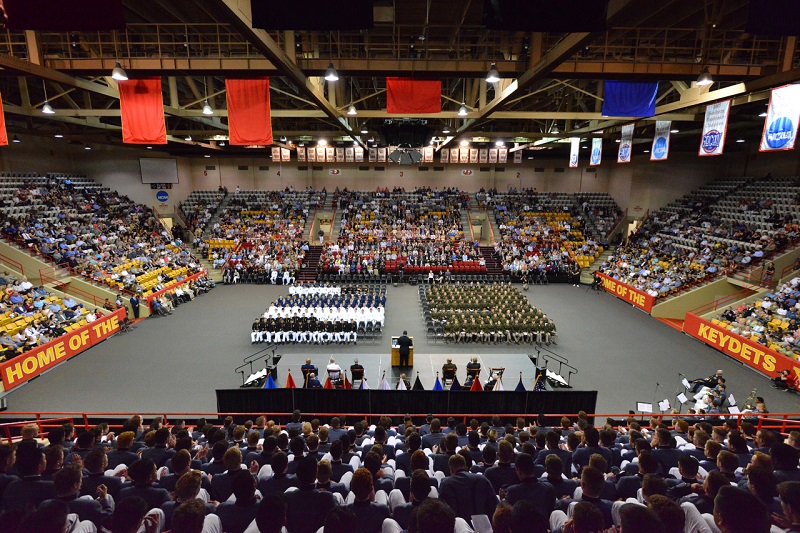 ---
Cocke Hall
Cocke Hall, located at 501 Letcher Ave., is the Institute's main gymnasium, built in 1924, and named after Gen. William Horner Cocke, Class of 1894 and VMI's fourth superintendent. It contains an indoor track, basketball courts, classrooms, locker rooms, weight & cardio rooms, a powerlifting room, and an annex with boxing facilities and a swimming pool. Each August, this facility hosts the Matriculation Fair, and is also used for other events during the year, such as blood drives, midwinter formals, and the Harvest Hop.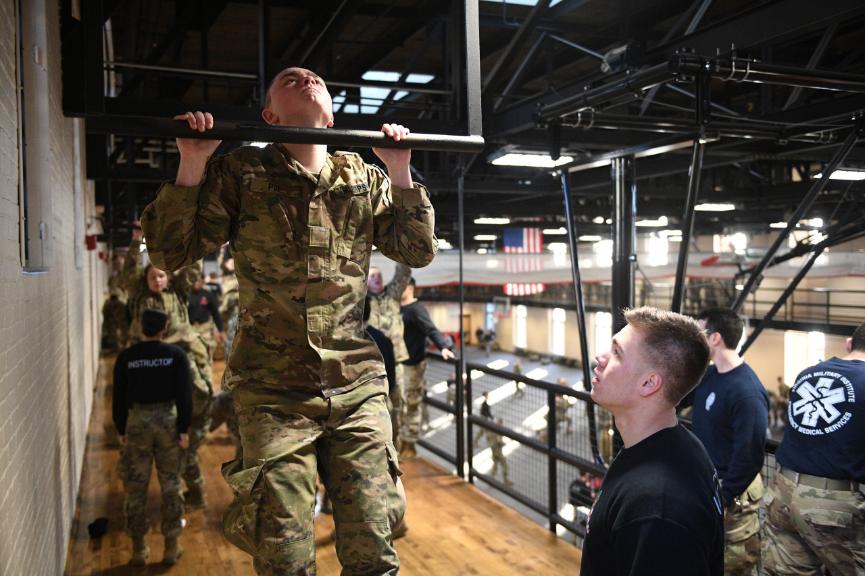 ---
Cormack Hall
Named after former professor and track coach Maj. Walter Cormack, Cormack Hall, located at 541 North Main Street, was originally constructed as a horse-riding arena for the Corps of Cadets. Subsequent uses included basketball, tennis and indoor track. Cormack was used as an indoor track from 1952 until May of 2013 when the facility began renovations.
The Corps Physical Training Facilities Phase II was completed in August 2015 and renovated the facility to support the Department of Physical Education and the VMI NCAA Wrestling program. The renovated space provides offices, classrooms, exercise science laboratory, wrestling training area, and weight training.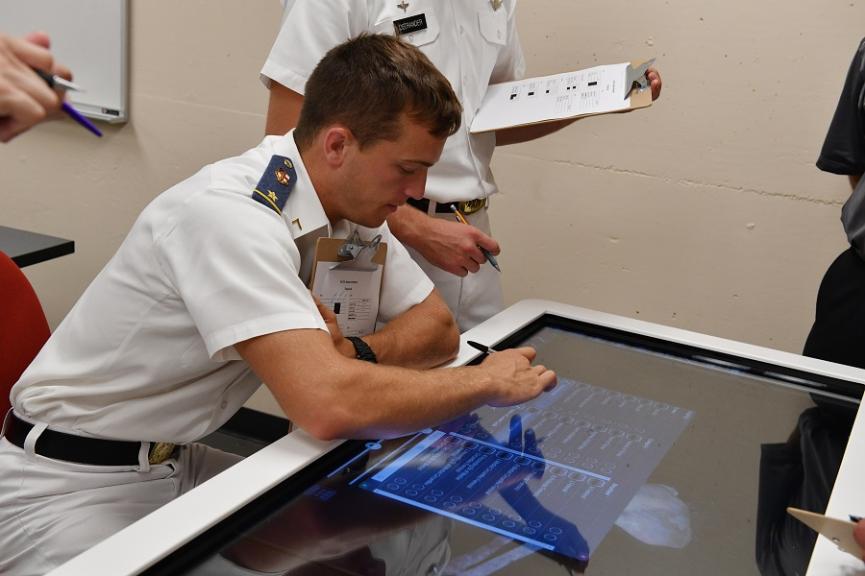 ---
Corps Physical Training Facility
Construction of the 205,000 square foot Corps Physical Training Facility (CPTF), located at 329 North Main Street, was completed in October 2016. The facility includes an indoor obstacle training course, leadership reaction course elements, weight and cardio training rooms, a climbing wall, a running track, drill areas, and support spaces.
Most notably, the CPTF features heavily in field training exercises (FTX) held every fall and spring for ROTC training. This state-of-the-art building serves as an indoor facility for VMI's men's and women's track and field teams. The space is also the host location for leadership training courses and teambuilding experiences for community groups, led by VMI instructors.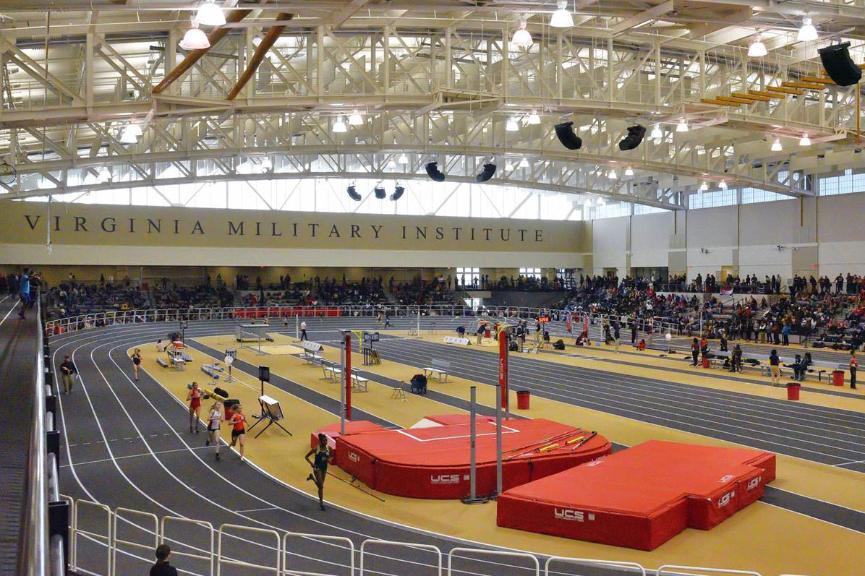 ---
Aquatic Center (North Main Street)
Construction is currently underway.
The pool will be 50 meters long and 25 yards wide, a feature that allows men's and women's swim team members to compete in meets that measure distances in meters and those that measure distances in yards. The pool will also allow for water polo, diving competitions, and for high water entry exercises, often done in years past in the Maury River. The existing pool in Clark King Hall, constructed in 1969, when the Corps of Cadets was much smaller, has remained in demand not only for swimming and diving practice, but also water polo, ROTC activities, and physical education classes.
When the aquatic center is completed, it will bring to an end the phased approach for athletic facility renovations and additions that began in 2014, which included renovations of Cormack and Cocke Halls and the building of the Corps Physical Training Facility, which opened in the fall of 2016, providing significant and enhanced indoor fitness training elements for cadets, as well as home to the Institute's NCAA track teams. The building provides a venue for ROTC and individual cadet physical training in inclement weather.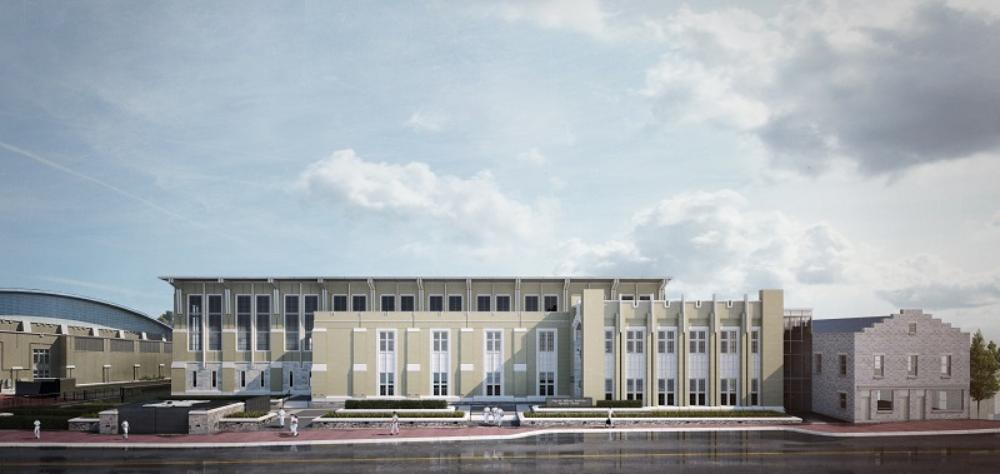 ---
Kilbourne Hall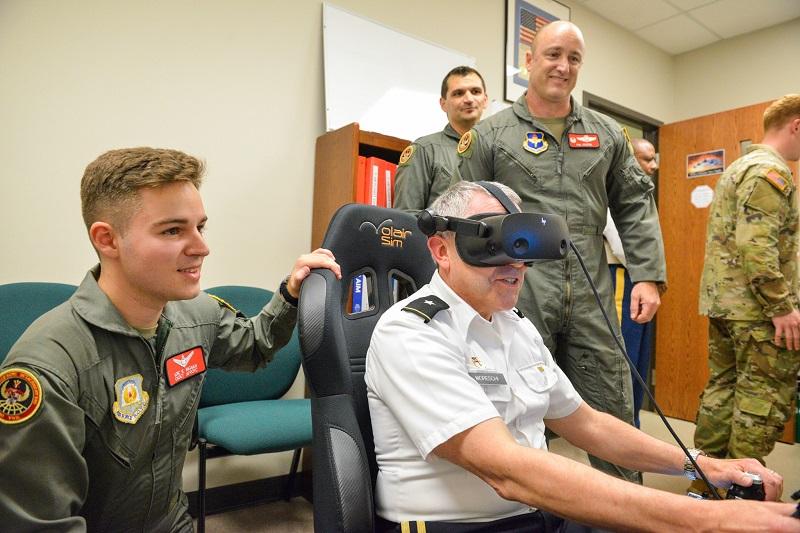 The ROTC (Reserve Officers Training Corps) building was built in 1967 and was renovated and expanded in 2009, making it the largest ROTC building in the nation. VMI offers ROTC from four service branches: Army, Navy, Air Force, and Marine Corps. The building is named after Lt. Gen. Charles E. Kilbourne, Class of 1894, and the Institute's sixth superintendent.
In addition to classrooms and offices, Kilbourne Hall also houses a variety of simulators used by the ROTC units for training. The men's and women's rifle teams also compete in Kilbourne Hall.
---
OUTDOOR TRAINING
North Post Training Area
The North Post Training area includes: three drill fields (one with artificial turf and lighting), challenge courses, obstacle courses, repelling stations, high ropes courses, a fully baffled 30 -point firing range, parking and restrooms. Four tennis courts were located on the east end of North Post which complement the spectrum of lifelong fitness through physical fitness courses stressed at the Institute.

Leadership Reaction Course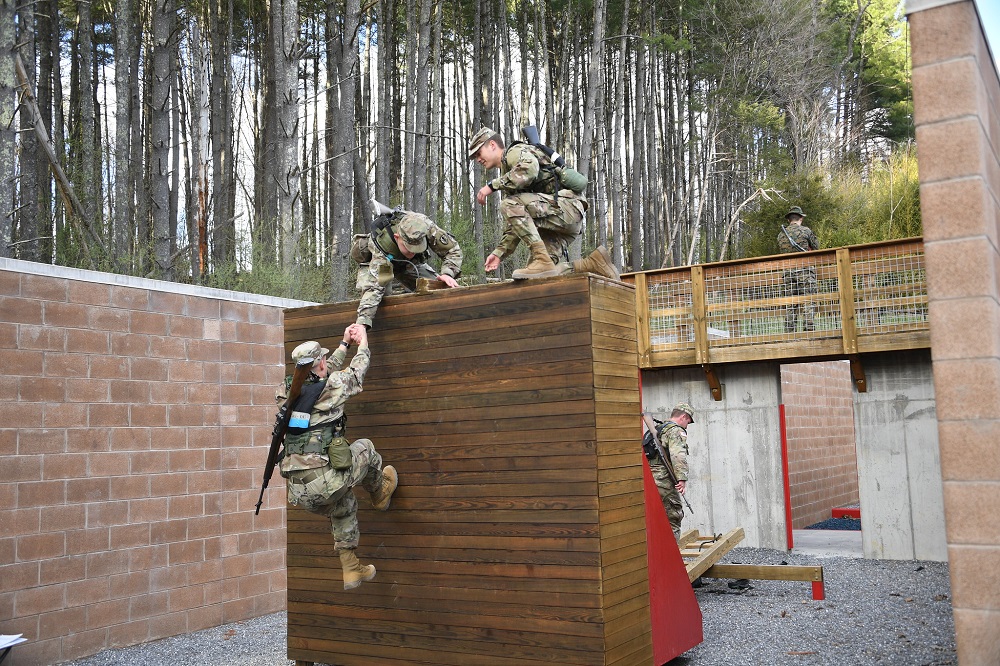 VMI's
Leadership Reaction Course (LRC)
, located in the North Post Training Area, features 10 team-building obstacles that every cadet will have the opportunity to experience. The LRC is used for ROTC training and 2nd classmen leadership training.
---
Military and Leadership Field Training Grounds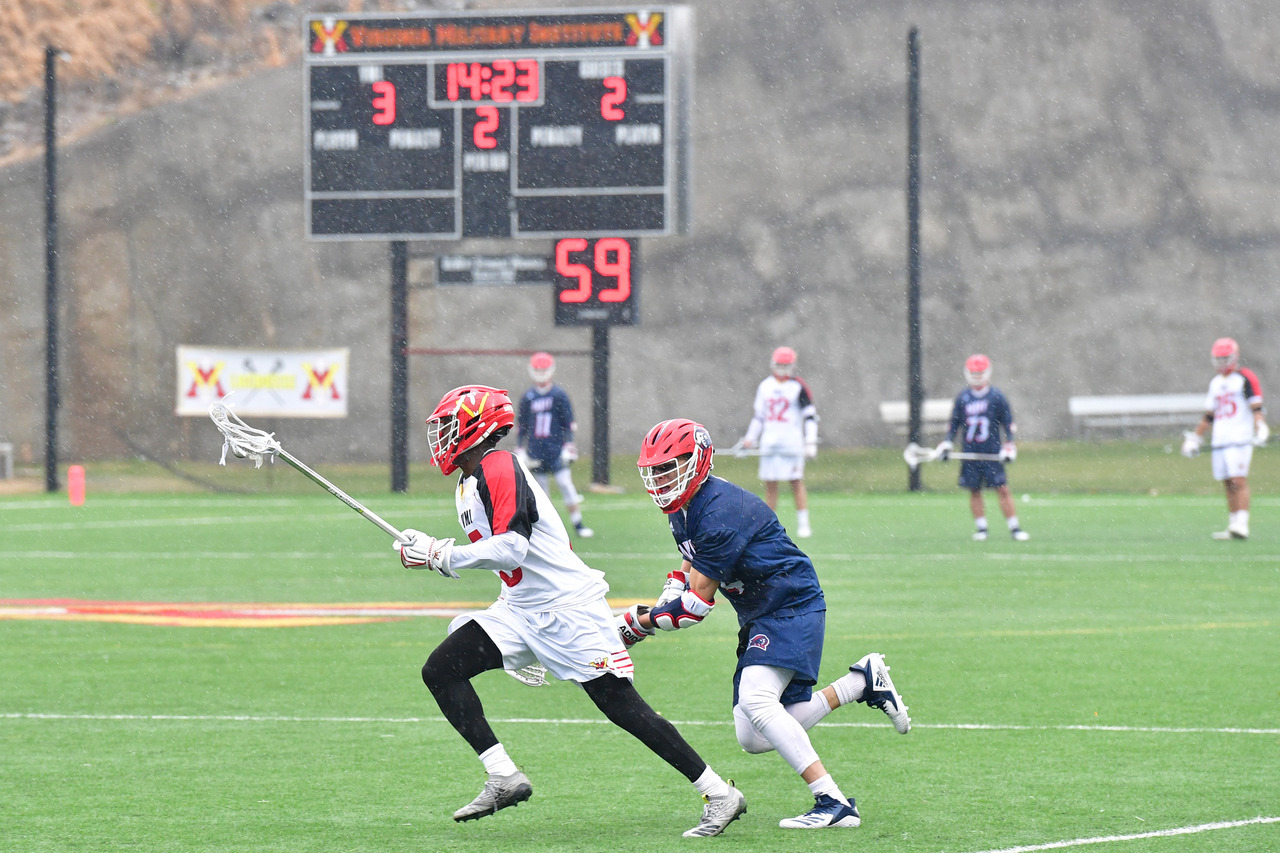 Drill Field 1 mainly serves as a soccer practice field. The field is also used for various corps physical training events.
Drill Field 2, otherwise known as the North Post Turf Field, is the site of VMI lacrosse practices and games. The turf field is also used for rat training, drill practices and competitions, and ROTC physical training.
Drill Field 3 is home to VMI's club rugby team. The field is also used for physical training events.
---
Firing Range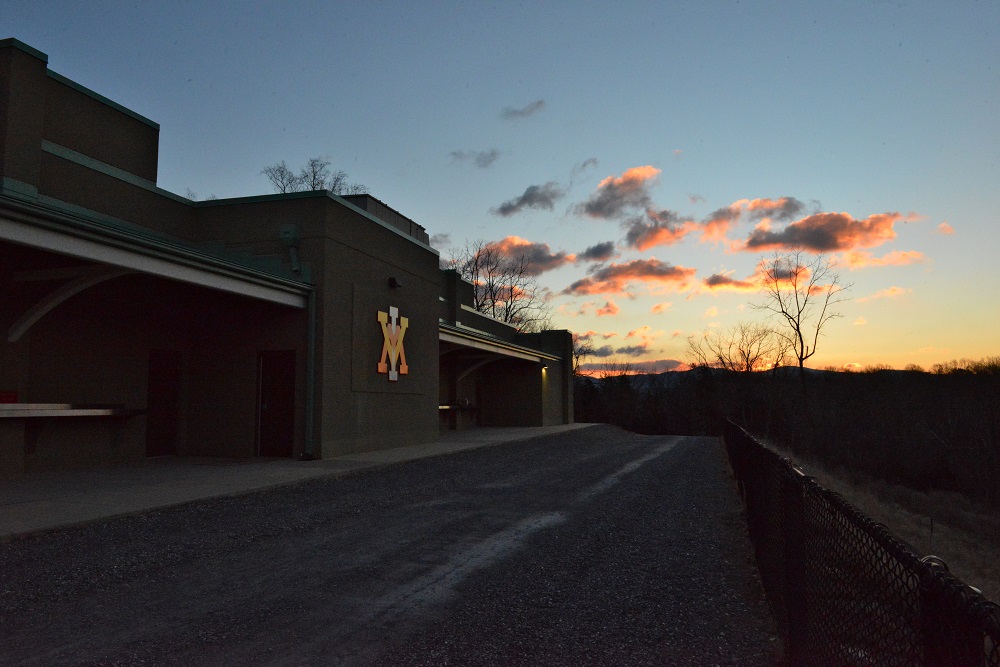 VMI's firing range is used for ROTC training, 3rd class marksmanship training, and 1st class marksmanship training. The facility is also used for 'Open Range' throughout the week, where cadets can go and practice shooting for free. The primary weapons used on the range are the M9 and the M4.
---
Chessie Nature Trail
VMI cadets often use the Chessie Nature Trail for both training activities and recreation. This seven-mile, year-round public access walking trail between Lexington and Buena Vista is located along the former Chesapeake and Ohio Railroad right of way.
Local community groups are encouraged to hold walks or meetings on the trail. A courtesy contact to VMI is welcome, but not required. Large or complex events such as foot races must be coordinated in advance with VMI to prevent trail use conflicts. Any group wishing to hold a trail clean up or other volunteer trail maintenance may contact VMI for support.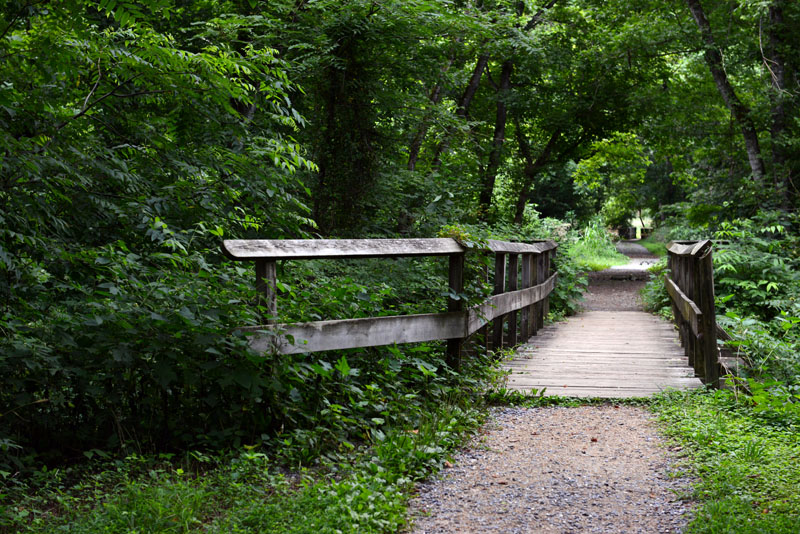 ---
ATHLETIC FIELDS
Foster Stadium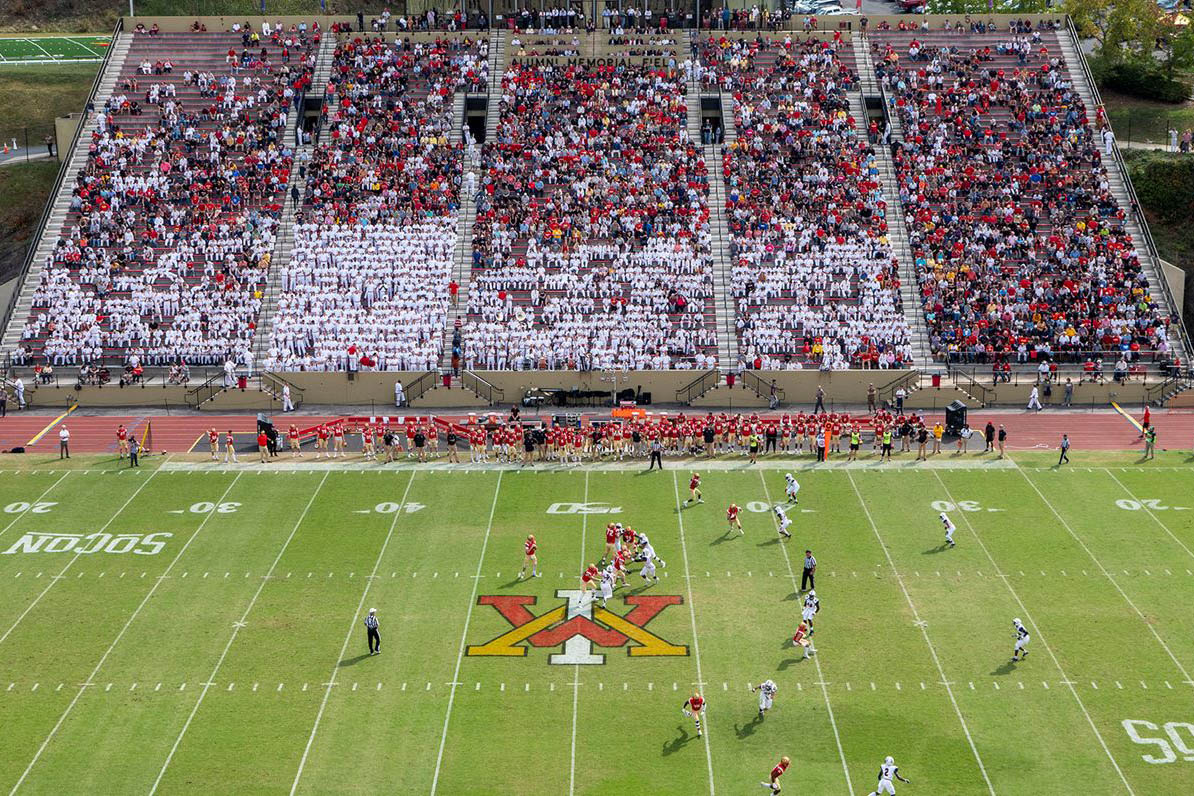 Alumni Memorial Field was constructed in 1925 and is a memorial to World War I Alumni. Foster Stadium, built in 1962 and located on North Main Street, was modernized in 2006 with new home and visiting team locker rooms, landscaping, public address system, parking improvements, fencing, and improvements to Fiorini Field (formerly Delaney Field). A concession concourse was developed along the present walkway system beneath the grandstand. Clarkson-McKenna Hall was expanded to add additional lockers and a weight training room. Public restrooms, handicap access, and cosmetic improvements were included in the renovation. The modernized stadium was dedicated in the fall of 2006 and named P. Wesley Foster Jr. '56 Stadium.
Foster Stadium seats 10,000 and is home to Keydets football and men's and women's track and field.

---
Clarkson-McKenna Hall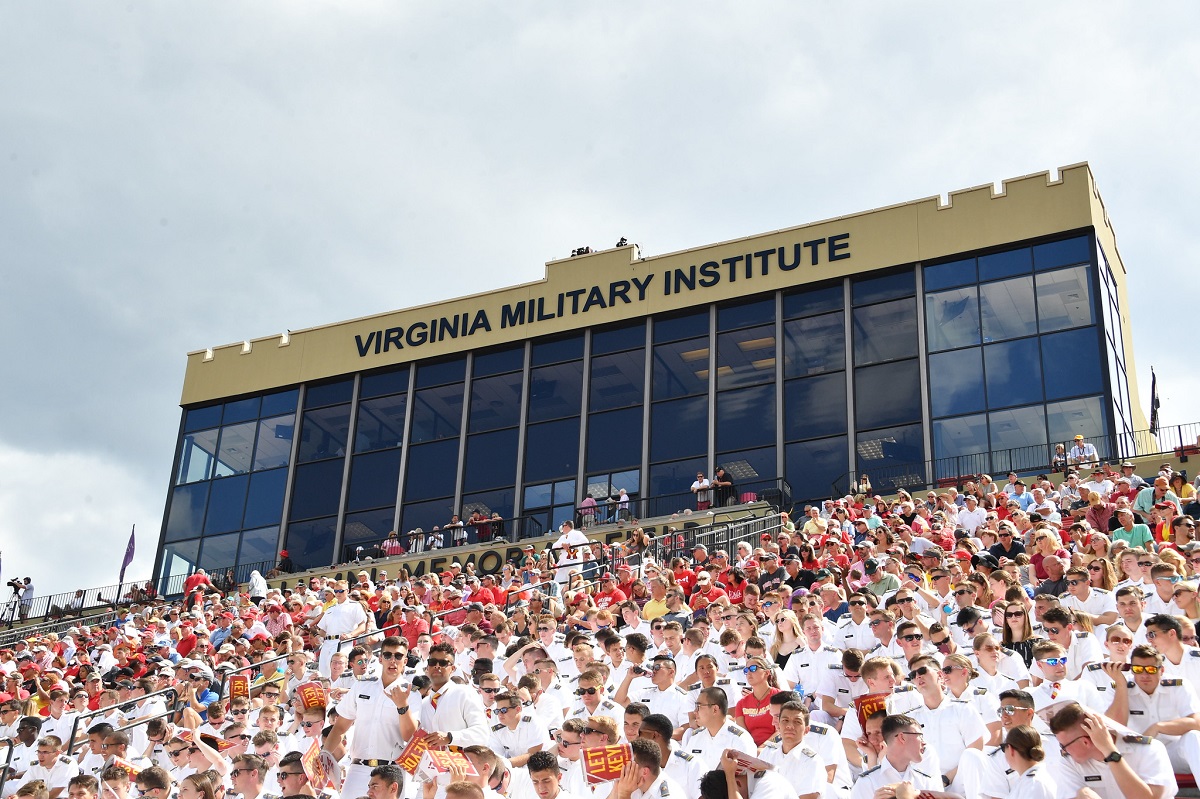 Completed in 1988, Clarkson-McKenna Hall is a multi-purpose facility for VMI's NCAA Division I
football team
. Clarkson-McKenna Hall consists of four levels, with the main entrance to the building on the level of the concession area behind the stadium. The 100 level includes a lobby area and equipment and laundry rooms, in addition to all mechanical aspects of the building. Included in the Foster renovation project (2006) was an expansion of the Keydet locker room, the Luck Weight Room, and the Athletic Training Facility. The 200 level includes the football locker room and training room. Coaches' offices and meeting and film rooms comprise the 300 level. The 400 level is the press box. The center section of the totally enclosed press area is for working press and statisticians.
---
Fiorini Field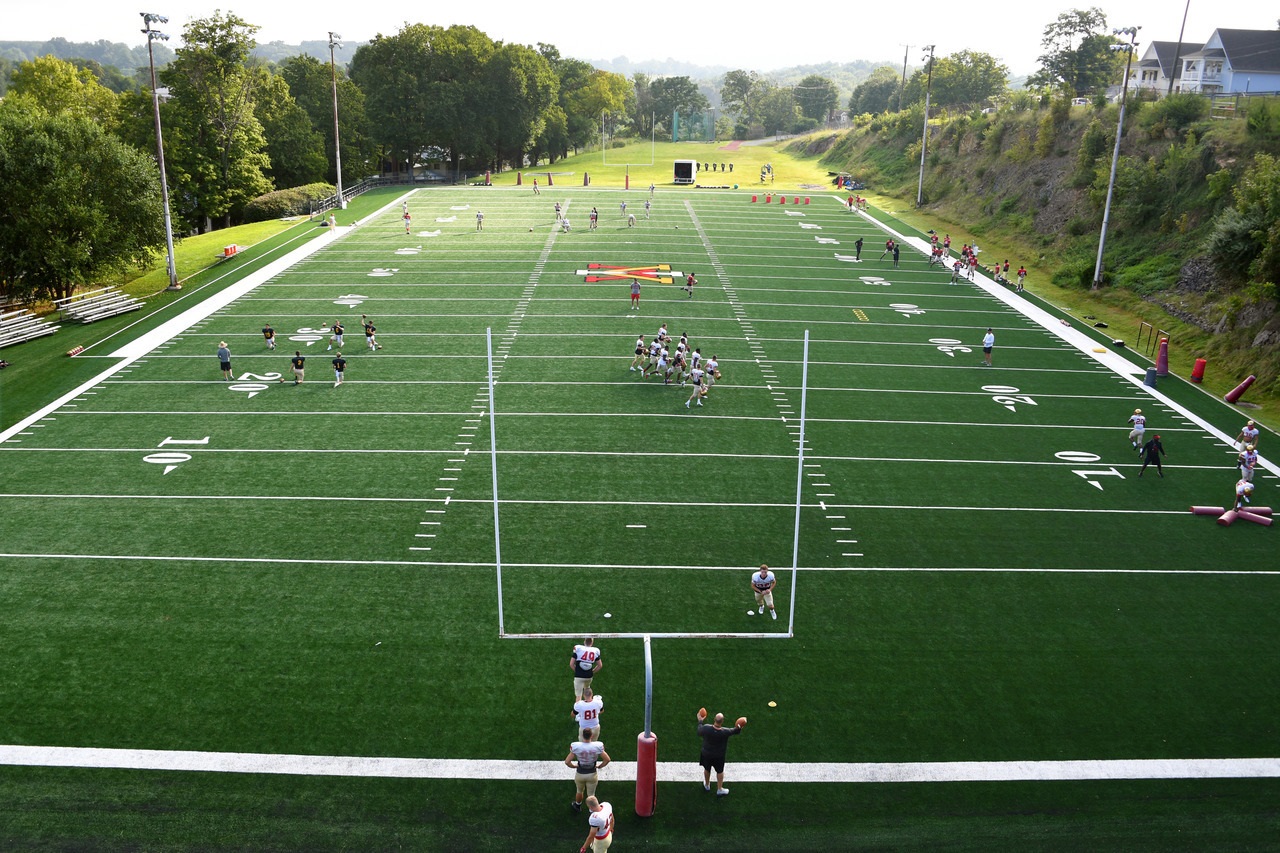 Formerly 'Delaney Field,' Fiorini Field serves as the practice facility for the VMI football team. It was modernized in 2006 along with the rest of Foster Stadium, and is located behind Clarkson-McKenna Hall. Complete with a Sprinturf surface, lights, and a scoreboard, this facility has enhanced practice capabilities for several VMI teams.
---
Gray-Minor Stadium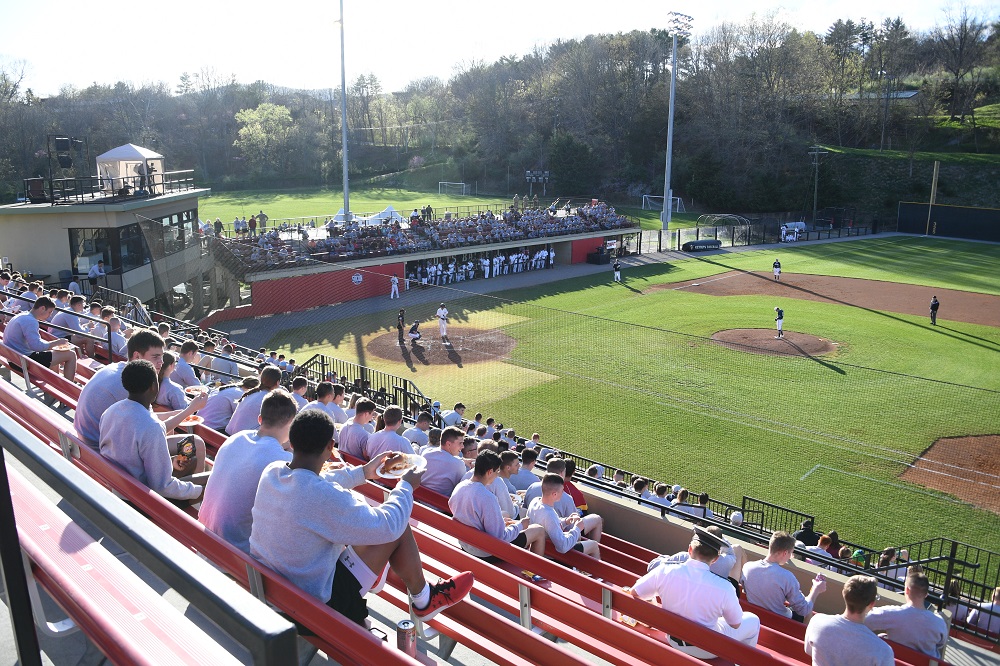 Gray-Minor Stadium, located at 450 Anderson Drive, is the home to VMI's NCAA Division I baseball team. The stadium was improved with concession stands, press box, dugouts, fencing, lighting and scoreboard in 2007. Total capacity seating for 1,300 spectators made VMI eligible, and attractive, for hosting the Big South Conference baseball tournament in May 2011.
---
Patchin Field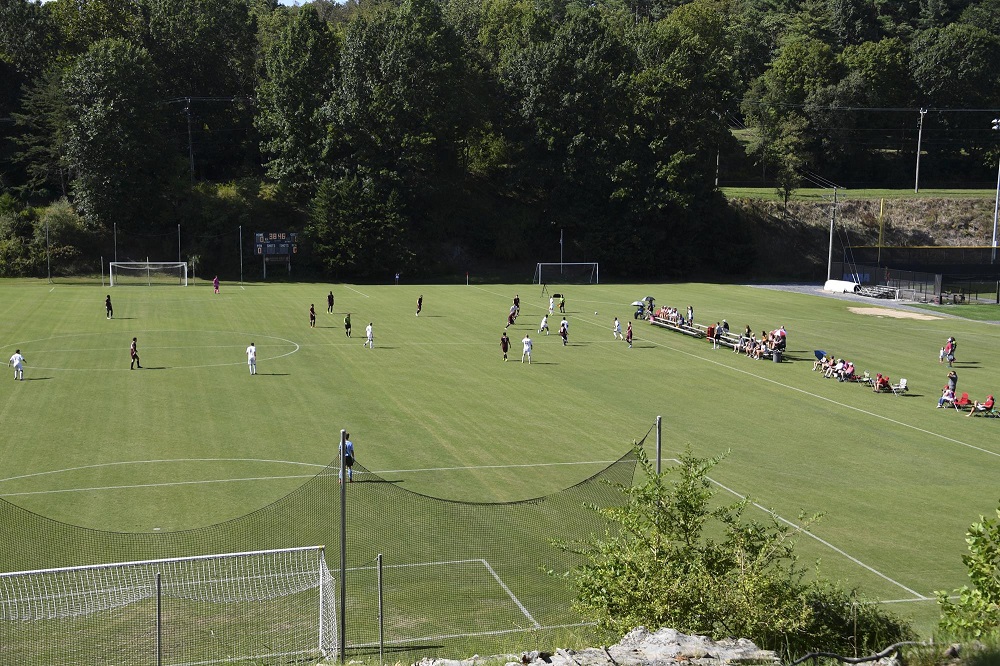 Located to the north of Institute Hill and built overtop of Woods Creek, which still runs beneath it, Patchin Field offers both a game field and a practice area for its tenants and serves as the home site of VMI men's and women's soccer games.
Paulette Hall, formerly the Patchin Field House, is located next to Gray-Minor Stadium and houses locker room facilities for the baseball, men's soccer, women's soccer and lacrosse teams, as well as a storage room, and an auxiliary training room that features two whirlpools, a taping bench, and four treatment tables.
---
SPEAKER VENUES
Marshall Hall
Marshall Hall, located at 500 Anderson Dr., is the home of the VMI Center for Leadership and Ethics, which promotes a variety of leadership and ethics initiatives at VMI. It is a Virginia Green event venue.
The facility is named in honor of General George C. Marshall, a graduate of VMI in 1901, an exemplar of leadership and ethics. The facility is used primarily for meetings, banquets, conferences and symposia, press conferences and a variety of Post events including the annual Ring Figure Ball.
The Hall of Valor, Gillis Theater, break-out rooms, Board Room, and Gallery may be rented by outside organizations on a fee schedule, with Administrative and Technologist support costs being additive to rental fees. Proof of liability insurance is required.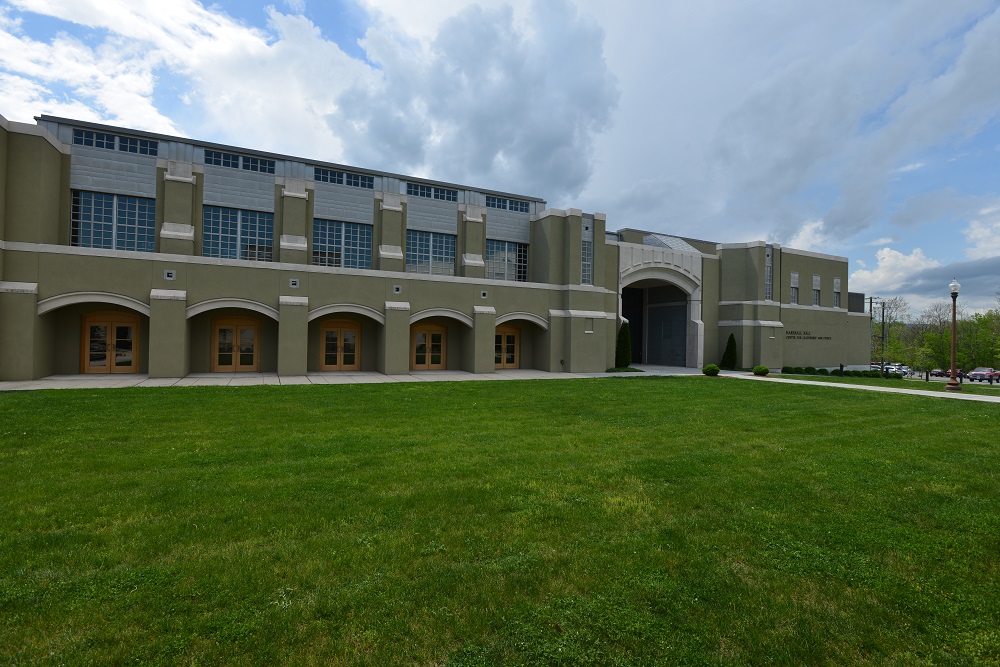 ---