Jonathan Daniels, Civil Rights Hero

Transcript and audio recording of Daniels's VMI valedictory address, June 1961. Listen online.
About Jonathan Daniels
Jonathan M. Daniels, a native of Keene, New Hampshire,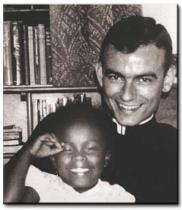 was valedictorian of the VMI Class of 1961. He was awarded the prestigious Danforth Fellowship for post-graduate study and enrolled at Harvard University to continue his study of English literature. Daniels soon realized that he was called to the ministry. While a seminarian at the Episcopal Divinity School in Cambridge, Massachusetts he responded to the pleas of Dr. Martin Luther King for clergy to become more actively involved in the Civil Rights movement, and traveled to Alabama to assist with voter registration efforts in the South.
In August 1965 Daniels and 22 others were arrested for participating in a voter rights demonstration in Fort Deposit, Alabama, and transferred to the county jail in nearby Hayneville. Shortly after being released on August 20, Richard Morrisroe, a Catholic priest, and Daniels accompanied two black teenagers, Joyce Bailey and Ruby Sales, to a Hayneville store to buy a soda. They were met on the steps by Tom Coleman, a construction worker, and part-time deputy sheriff, who was carrying a shotgun. Coleman aimed his gun at sixteen year old Ruby Sales; Daniels pushed her to the ground in order to protect her, saving her life. The shotgun blast killed Daniels instantly; Morrisroe was seriously wounded. When he heard of the tragedy, Martin Luther King, Jr. said, "One of the most heroic Christian deeds of which I have heard in my entire ministry was performed by Jonathan Daniels."
In the years since his death, Daniels' selfless act has been recognized in many ways. Two books have been written about his life, and a documentary was produced in 1999. The Episcopal Church added the date of his death to its Calendar of Lesser Feasts and Fasts, and in England's Canterbury Cathedral, Daniels name is among the fifteen honored in the Chapel of Martyrs.
Recognition at the Institute
The VMI Board of Visitors voted in 1997 to establish the Jonathan M. Daniels '61 Humanitarian Award. The award emphasizes the virtue of humanitarian public service and recognizes individuals who have made significant personal sacrifices to protect or improve the lives of others. The inaugural presentation was made to President James Earl Carter in 2001; the second award was presented to Ambassador Andrew Young in 2006. In addition, one of only four named archways in the VMI Barracks is dedicated to Daniels, as is a memorial courtyard.
Documents & Photographs
Online Exhibit
Photo Album, Daniels in Alabama, 1965
Cadetship
Valedictory Speech, 1961 and Yearbook page, 1961
Photograph - larger version of image top left
Other Images
Plaque in Daniels Courtyard at VMI
Daniels Arch, VMI Barracks
Memorial plaque in Hayneville, Alabama

Humanitarian Award
President James Earl Carter, 2001 photo
Ambassador Andrew Young, 2006 photo
Paul V. Hebert (Class of 1968), 2011 photo
Rep. John Lewis, 2015 photo
The Award, Sculpture
Sources for Additional Information
Outside agitator : Jon Daniels and the civil rights movement in Alabama. Chapel Hill : University of North Carolina Press, c1993.
The Jon Daniels story, with his letters and papers. Edited, with an introd., by William J. Schneider. New York, Seabury Press [1967]
Here am I, send me [videorecording] : the journey of Jonathan Daniels. Produced by Lawrence Benaquist and William Sullivan. Atlanta, Ga. : The Episcopal Media Center, 1999.