Our Graduates
Those who successfully complete their cadetship at VMI find themselves prepared and ready to face the next phase of their lives, whether that be in the military, the government, the private sector, or graduate school. The VMI Alumni Agencies offer a way for these individuals to stay connected to the Institute and the Corps of Cadets. The stories of how VMI positively impacted those who pass through the limit gates are plentiful. Here are just a few:
Pauling '06: VMI was the "Starting Point"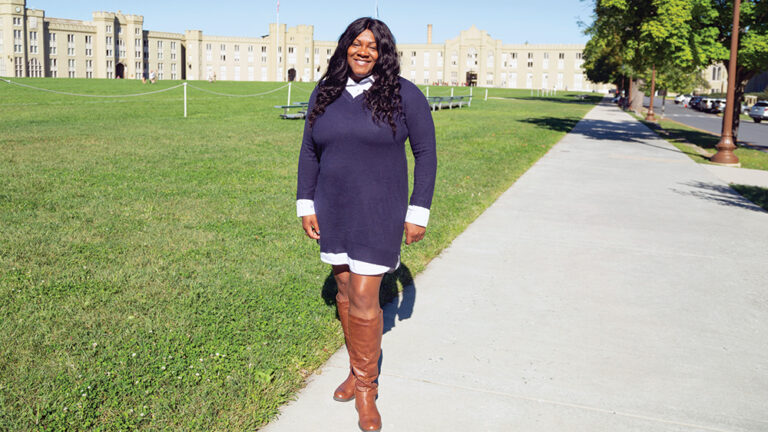 Recruited to run track at VMI, Lezshell "Shelly" Mackall Pauling '06, Ph.D., was already accustomed to running hard races long before she matriculated. She didn't realize, however, that at VMI, the hardest race is the one you run against yourself.
When she matriculated in 2002, Pauling was part of a unique group: One of 32 women recruited to VMI by Maj. Claudia Pirkle, then-assistant director of admissions. At the time, it was the largest class of women recruited since coeducation began in 1997.
After VMI, Pauling completed three more degrees: An Associate degree in health sciences, a Master of Science degree in sports psychology, and a Doctor of Philosophy degree in psychology—the latter two from Capella University. Today, she works as a mental performance coach with U.S. Special Operations Command soldiers.
Pauling has also found time to give back to VMI. She's currently a member of the Keydet Club Board of Governors, and she's also spoken to the Promaji Club and the Psychology Club about her experiences as a cadet and topics within her current career, as well as participated in the 2021 Alumni Engagement Conference.
Full alumni story by Victoria Ferris, Social Media and Communications Strategist, and Mary Price, Development Writer/Communications Specialist
---
Winder '19: No Shortcuts to Success
Josh Winder '19, pitcher for the Minnesota Twins, follows a routine. Whether throwing or not, he is at the ballpark at least five hours before the first pitch. He spends three hours in the weight room and the training room. After that, he studies the information about opposing hitters and then warms up, throwing dozens of pitches.
Routine is nothing new for Winder, as it resembles what he did as a cadet-athlete. "Every day, I apply two big lessons I learned at VMI: Discipline and time management. The first gave me the willingness and ability to be comfortable in a Spartan environment. The second taught me how to maximize efficiency and to come to tasks—like game day preparation—with a plan and a purpose."
In spring 2018, the Minnesota Twins selected him in the seventh round of the draft. Winder was the third-highest draft pick in school history and only the third VMI pitcher to be selected in a draft's first 10 rounds.
When he accepted the Twins' offer, he told them he was determined to finish his degree. "I got lucky," Winder said. "I came to VMI with a semester worth of credits." On Coach Hadra's advice, he took advantage of summer school and worked with his professors to stay on track. So, in the spring semester of his 2nd Class year, he could take the courses he normally would have taken in his 1st Class spring semester.
Looking back, Winder is glad he made the effort to graduate. "I've met other players who left school just one semester short of graduation, and I've realized the longer you are away from school, your chances of finishing diminish significantly."
Full alumni story by Scott Belliveau '83 Communications Officer - Executive Projects, and Victoria Ferris, Social Media and Communications Strategist