2021-2022 | VMI Cadets Research Heavy Loads
Yearbook Staff Encapsulates Everything VMI Has to Offer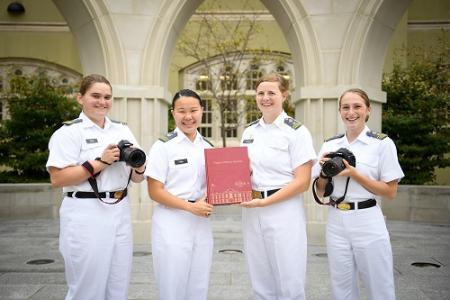 LEXINGTON, Va., Oct. 15, 2021—"It is such an incredible feeling to encapsulate everything VMI has to offer."
For 136 years, the yearbook staff has carried a long and proud legacy of documenting life at VMI through the "Bomb".
"The first "Bomb" yearbook was created in 1885, and it is an honor knowing that [we] continue its legacy 136 years later," Christina Skaggs '22, editor in chief, said. "Every class has a story, every cadet has a story, and the "Bomb" is able to share those stories."
"Working on it puts pressure on us to correctly represent the year for the future generations to understand what cadet life was like in the past," Katie Feng '22 added.
Capturing the highs and lows of the Corps in each "Bomb" takes a lot of planning. At the beginning of the academic year, the yearbook staff meets to plan out what the year's yearbook will look like.
"We organize every single page of the yearbook from start to finish," Skaggs explained.
Each "Bomb" consists of five main sections: portraits, Corps events, clubs, NCAA sports, and advertisements. The team works hard to include the big moments of the year and all the small moments in between.
"We want people to look back and remember exactly what happened that year," Feng said. "It takes a lot of planning to make sure we get the main events, such as Matriculation Week, the dances, Ring Figure, graduations, and Breakout."
Alexis Wade '22 and Jessica Hankin '22 agreed that photographing Breakout is a highlight of their year.
"It's an incredible opportunity to get to capture such a memorable moment in these people's lives," Hankin commented.
"My favorite moments to photograph are the ones where the Corps comes together to accomplish something big or have a grand time," Wade added.
Creating the "2021" Bomb amid the COVID-19 pandemic was a difficult endeavor for the yearbook staff.
"It was hard to make the yearbook during the COVID-19 pandemic," Skaggs stated. "It was not easy with all the COVID-19 protocols."
"Everyone looked the same with masks on, which prevented us from getting the full facial expressions of the rats huffing and puffing or the cadets actually smiling during events," Feng added.
Despite the challenges, Skaggs and the yearbook staff are proud of what they accomplished with the 2021 Bomb.
"Creating a yearbook amidst COVID was one of the most difficult experiences of my cadetship, but seeing the finished product was one of my proudest moments," Skaggs stated. "I hope that this "Bomb" brings pride and joy to the Class of 2021 and every other class in barracks, and I hope the Bomb continues to thrive for the future generations to come."
Eric Moore
Communications & Marketing
VIRGINIA MILITARY INSTITUTE