Inman to Speak at December Graduation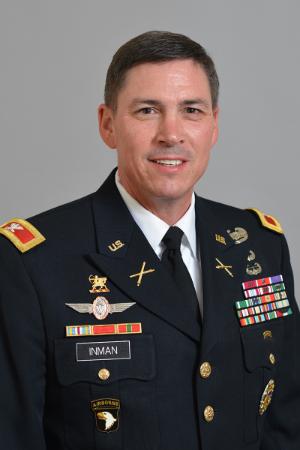 LEXINGTON, Va., Oct. 12, 2018—Col. Jamie Inman '86, chief of staff, will be the speaker at this year's December graduation ceremony at Virginia Military Institute, to be held Wednesday, Dec. 19, at 11 a.m. in Jackson Memorial Hall on the VMI post. This event is open to the public, and no tickets are required.
The joint commissioning ceremony for December graduates will be held Tuesday, Dec. 18, at 5 p.m. in Jackson Memorial Hall.
As chief of staff, Inman is responsible for coordinating the actions of the Institute's primary staff officers and ensuring integration of all organizational and Post operations, events, and issues. He serves as chair of the Institute Planning Committee, composed of senior VMI executives who develop policy guidance and provide advice to the superintendent.
A native of Trenton, Tennessee, Inman received a bachelor's degree in English from VMI. He also holds two master's degrees: one in liberal arts from Louisiana State University and another in national security strategy from the National Defense University. Inman's military education includes the Command and General Staff College and the National War College.
His most recent assignment prior to retirement was as commander of the National Capitol Region Warrior Transition Brigade. In this capacity he was responsible for all wounded, ill, and injured soldiers in the region. Prior to that assignment, he served combat duty in Iraq, Afghanistan, and Desert Shield/Storm.
His military awards and decorations include the Legion of Merit with two oak leaf clusters, Bronze Star Medal with oak leaf cluster, and Purple Heart.
Those attending the December graduation ceremony should be aware that due to space constraints and security reasons, coolers, backpacks, and baskets will not be allowed. Strollers must be able to be folded and placed out of the aisles. All carry-in items are subject to search at the door.
The superintendent will host a light reception for all graduates and family and friends in Moody Hall immediately following the ceremony in Jackson Memorial Hall.
The doors to Jackson Memorial Hall will open at 9:30 a.m. Seating is on a first-come, first-served basis, so attendees should arrive early to have a choice of seats. Family members and guests should be seated by 10:45 a.m. Printed programs will be available at the entrances to the seating area.
Parking on post will be in parking lots and in designated parking spots along streets. Parking on the Parade Ground will be dependent upon weather.
On the morning of Dec. 19, the area in front of barracks will be closed to traffic until the conclusion of the commencement ceremony. Vehicles will be allowed in that area afterwards to allow cadets to move their belongings out of barracks.
Christmas furlough for non-graduating cadets will begin at the completion of academic duty that same day, Wednesday, Dec. 19.
-VMI-