Tillerson to Speak at Commencement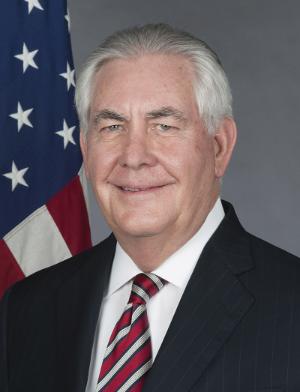 LEXINGTON, Va., Feb. 22, 2018—Former Secretary of State Rex Tillerson will speak at graduation exercises for the Virginia Military Institute Class of 2018, to be held at 11 a.m. Wednesday, May 16 in VMI's Cameron Hall.
"Secretary Tillerson has had a remarkable career on the international scene, managing an international energy company and more recently as Secretary of State," said Gen. J.H. Binford Peay III '62, superintendent. "We educate our cadets to serve their nation and their community, whether in uniform or in civilian life. Secretary Tillerson's success and his long and deep record of service will resonate especially well with our graduates."
Tillerson served as Secretary of State from February 2017 to March 2018. He concluded a career of more than 40 years in the petroleum industry just before being sworn in as Secretary of State, retiring as chairman and chief executive officer of ExxonMobil at the end of 2016.
Tillerson spent the entirety of his career with ExxonMobil, going to work for the corporation in 1975 after graduating that same year from the University of Texas at Austin with a bachelor of science degree in civil engineering. He rose through the company's ranks to become chairman and chief executive officer in 2006.
In addition to his duties for ExxonMobil, Tillerson has had a longstanding involvement with the Boy Scouts of America, earning its highest rank of eagle scout as a youth and as an adult receiving the distinguished eagle scout award. He is a former member of the Boy Scouts of America's executive committee and served as the national president of the Boy Scouts from 2010 to 2012.
Tillerson is a former member of the American Petroleum Institute and the National Petroleum Council and was elected to the National Academy of Engineering in 2013. He formerly served as a trustee of the Center for Strategic and International Studies. He was also a member of the Business Roundtable and the Business Council, as well as an honorary trustee of the Business Council for International Understanding, and a member of the Emergency Committee for American Trade. He is a former director of the United Negro College Fund and a former vice chairman of the Ford's Theatre Society.
-VMI-