504 Matriculants Enter the Rat Line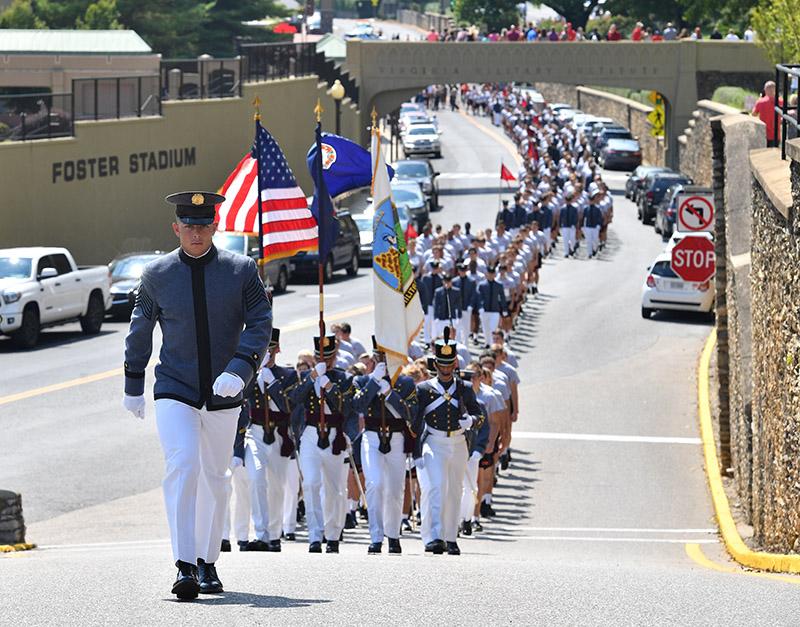 LEXINGTON, Va., Aug. 19, 2017—With hundreds of voices murmuring at the same time—nervous rats trying to shake the jitters; parents, proud and sad at the same time, hoping to hold back tears; professors discussing classes with potential majors; recruiters making their pitches to ROTC candidates—Cameron Hall was a cacophony of indistinguishable reverberations as another Matriculation rolled around Saturday, Aug. 19.
Then there was THE voice. "If you have numbers 161-170, please come to the floor."
The group of first years corresponding with those numbers, brandishing placards with their names and company assignments, rose and made their way to the floor. Their VMI journey had begun.
Matriculation Day at VMI has always been about numbers. And Vernon Beitzel '72, VMI's director of admissions and a man whose life really revolves around numbers, loves to share them.
"The numbers are almost identical to last year," said Beitzel. "The most significant difference, I think, is the number of transfer students. We have 58 transfers, and that's a huge number. We have more transfer athletes than we've ever had, and we have a lot of kids who are transfers because they were denied last year but reapplied this year."
The 504 matriculants hail from 34 different states and four foreign countries, with 60 percent coming from Virginia. There are 110 athletes in the group. As usual, math, science and engineering dominated the choices of major, with 62 percent of the rats choosing one of those fields of study; 38 percent will focus on a liberal arts major.
Beitzel also noted that the SAT scores for the incoming rats is higher than last year's group, jumping from an average of 1158 to 1195. The average high school grade point average for the class of 2021 is 3.66. In short, it was another quality group of rats coming to VMI, a group that has distinguished itself from a pool over more than 1,800 applicants.
Beitzel said that when choosing a new class, VMI looks at "not only their academic record, but the strength of their record. Then there are things like their leadership, motivation and fitness, those intangible things. And some of it's the interest they've demonstrated in VMI. We like kids that have been here for an open house, that have been here for an interview and have been looking at VMI for a while."
This year, however, two numbers really stand out.
When those rats filed through Cameron Hall Saturday, it marked a special anniversary. It was 20 years ago that women first signed the Matriculation Book and joined the Corps of Cadets
"I commend them," said Yaa, Agyepong-Wiafe '18 of the first group of females to come to VMI. "It was a completely different system back then. Now there are a lot more females, which is nice to see."
According to Col. Vernon Beitzel '72, VMI's director of admissions, the number of women entering VMI steadily grown since the first time they were admitted on post. This year, 63 females, the second number, walked through, just shy of the record set by this year's first class, which came to VMI more than 70 strong.
"Over the last 20 years, we've at least tripled the number of female applicants," said Beitzel. "We've been getting around 300 female applicants. This year we'll have about 63 women in this class. We started with 30."
Laura Davis '18 knows one of those women personally. She was in Cameron Hall Saturday as her sister joined the tour. Davis, who also has two uncles who attended VMI, knew exactly what her sister was going through.
"I'm a little nervous, but I know she'll do well," Davis said. "She's seen me go through all of it. She's seen me come home from break crying because I didn't want to [return]. My mom said she had a better first day than I did. I think I was a little stressed and nervous."
And that's one thing all new cadets have in common.
"I was really nervous," said Manuel Bloch '18, who was on hand to help guide the new guys Saturday. "It's just scary because it's your first day."
"I came here knowing a little bit about VMI," added Agyepong-Wiafe. "There are a lot of things going on, very stressful. But the first day isn't the worst day."
Agyepong-Wiafe acknowledged that while Matriculation can be nerve-wracking, life at VMI gets tougher, so she offered a bit of advice to the class of 2021.
"You get what you put in," she said. "Try everything. Always ask for help. Put yourself out there and try to be the best you can at everything you do."
-Chris Floyd
–VMI–